Art and Electronic Media
| i |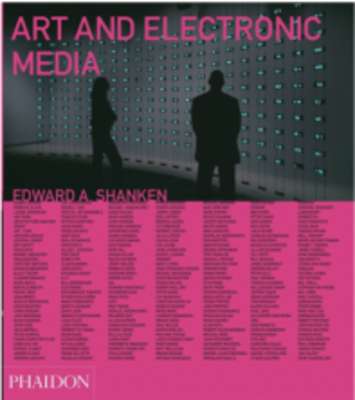 | | |
| --- | --- |
| title: | Art and Electronic Media |
| year: | 2009 |
Bibliographic Entry
Shanken, Edward A., ed. 2009. Art and Electronic Media. London , New York:Phaidon Press
Description
Art and Electronic Media demonstrates the formidable history of artistic uses of electronic media, a history that parallels the growing pervasiveness of technology in all facets of life. Over 200 artists and institutions from more than 30 countries are represented. The centrality of artists as theorists and critics is reflected in the focus on artists' writings. The goal is to enable the rich genealogy of art and electronic media to be understood and seen – literally and figuratively – as central to the histories of art and visual culture.
In order to foreground continuities across periods, genres and media, Edward Shanken has organized the book around 7 thematic streams that run through the Survey, Documents, and Works sections:
Motion, Duration, Illumination
Coded Form and Electronic Production
Charged Environments
Networks, Surveillance, Culture Jamming
Bodies, Surrogates, Emergent Systems
Simulations and Simulacra
Exhibitions, Institutions, Communities, Collaborations
The volume also includes a section of biographies of the artists and authors whose work is included in the Works and Documents sections, a bibliography, and a comprehensive index.
A website resource of this book : http://artelectronicmedia.com/
Referenced people

Referenced artworks

Editors

Comments