Art Ex Machina (Portfolio)
| i |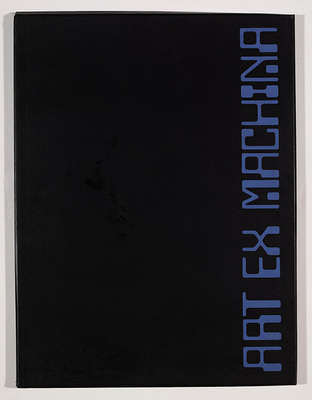 | | |
| --- | --- |
| title: | Art Ex Machina (Portfolio) |
| year: | 1972 |
Bibliographic Entry
Barbadillo, Manuel, et al., Gheerbrant, Gilles, ed. 1972. Art Ex Machina (Portfolio).
Description
Art Ex Machina is a portfolio of six silk-screen prints of computer-generated images. It was edited and published by Gilles Gheerbrant in Montréal, Canada. It contains one print and a short text by each of the six artists Barbadillo, Kawano, Knowlton, Mohr, Nake, and Nees. In additition, there is an introductory text by Abraham A. Moles.
The six silk-screen prints were printed by Pierre Foisy in Montréal. The edition comprises 200 signed and numbered portfolios plus épreuves d'artists.
Copies belong, e.g., to the Victoria & Albert Museum London, to ZKM Karlsruhe, and to the Anne and Michael Spalter Collection in Connecticut, USA.
Referenced artworks

Editors

Authors

Comments