Computergrafik bei Wendelin Niedlich
| i |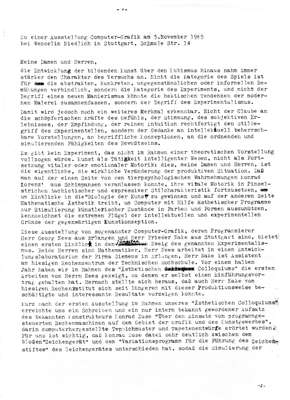 Download BENSE_01_1965_Niedlich.pdf
| | |
| --- | --- |
| title: | Computergrafik bei Wendelin Niedlich |
| year: | 1965 |
Bibliographic Entry
Bense, Max 1965. Computergrafik bei Wendelin Niedlich.
Description
This is the text of the speech Max Bense delivered at the occasion of the exhibition "Computergrafik", which opened the night of November 5, 1965, at Wendelin Niedlichs Buchladen und Galerie in Stuttgart (Germany).
On display were works by Frieder Nake and Georg Nees. It was the third public show of what was then called "Computer Art". Wendelin had suggested that his friend, Max Bense, opens the exhibition. He agreed and prepared the text whose original version is documented here.
The document is a pdf file of a scan of Bense's original typoscript, typed by himself on his typewriter and containing his corrections by hand.
Bense was not able to read his text himself. So he asked Reinhard Döhl to present it.
The exhibition later turned out as having been the third worldwide with the February 1965 show of works by Georg Nees (at Studiengalerie TH Stuttgart) ranking as the first, and Béla Julesz and A. Michael Noll's April 1965 show in New York (at Howard Wise Gallery) second.
Stuttgart through this event was established as a pioneering location of Digital Art.
Referenced people

Authors

Referenced exhibitions

Comments